Chances are, if you're on social media, you've no doubt encountered the easily-offended. You say something entirely innocuous in intent, and yet the listener assumes the worst possible scenario your statement could have meant, and then attack you via that assumption.
Recently, I had an actress friend from Twitter call online bullies out as "terrorists."
Her tweet was clearly tongue-in-cheek; she knows the difference between a suicide bomber for instance, and an internet troll. Nonetheless, people took offense to her supposed equating of terrorists to online bullies, and she felt compelled to apologize.
I responded, "Nice of you to do. It's irksome that people can be so easily offended, though. If you meant no offense, none should be taken."
Another of her followers inserted herself into the conversation with:
This is wrong. You don't get to dictate how others feel. That's like saying "she's a slut" oh[sic] but don't take offense because I didn't mean it! Like[sic] hell no. If it can be offensive, you should be aware of that.
This sentiment of not being able to tell others how they should feel is echoed by many, and it seems fair on the face of it, but in my opinion, logic dictates quite the contrary in many situations.
My reasons for this boil down to arguably the most famous and common of logical fallacies—The Straw Man Argument.
It basically goes like this.
I say, "I'm a Cincinnati Bengals fan."
A Browns fan hears this and attacks me, saying something like, "Don't trust that guy, he hates the Cleveland Browns."
While this might seem like a fair conclusion to make since they're division rivals, one does not technically assume the other. The fact is, partly because I'm squarely between the two in Columbus Ohio, I'd say the Browns are my 3rd favorite team (behind whomever is playing the Pittsburgh Steelers). So an assumption was made based on what I said that is entirely false.
Thus, it's a logical fallacy, because they're attacking a "straw man" of what I actually said, and falsely assigning that "straw man" to me. In any sort of debate, straw man arguments are  frowned upon for their inherently fallacious nature.
But one doesn't have to make a verbal argument to build a straw man. Simply taking offense at a statement where no disrespect was intended is fallacious for the same reason.
For instance, I once had an ex-girlfriend who was sadly suffering from bipolar disorder. One night, we were going out to dinner, and she opted for a little black dress that I thought looked great on her.
The conversation went like this:
Me: Honey, you look great in that dress.

Her: Oh, so I look like shit any other time?
(No, that's not a joke. Bipolar disorder is a very serious mental illness that can often lead to over-reactions like that from the sufferer. Click the link to read more about this condition.)
Hopefully, this over the top example explains why in fact, it is sometimes quite right to correct how someone is feeling. She was mad at what she felt my statement meant, when what I actually said and meant had no commonality with how she inferred it.
Arguing that I don't have a right to correct her emotional reaction is preposterous in my opinion, unless we disagree on the premise that a straw man argument is a logical fallacy.
However, this mindset isn't a license to say everything that's on your mind. You can't be the Andrew Dice Clay of your office, saying things you know will offend someone, but because you think it's funny, you assume this makes it OK. If you knew it would offend them and did it anyway, you meant to offend them. They have every right to be upset whether you think it's just you being funny or not.
But what's the difference?
People often say things like, "I'm not mean, I'm just being honest."
So let me illustrate the difference. Imagine you got a haircut, and you ask you spouse what they think.
Honest: The stylist did a nice job, but honestly, I don't like that style on you.

Mean: Whoa! Did you lose a bet? I've seen a baboon's ass with better looking hair than that.
Sure both of those statements are essentially saying the same thing, but one is clearly just honest, and one is clearly mean-spirited while coming from an honest place. The reason the latter is wrong is that not only does it convey your honest thoughts (the part that's valuable information the other person requested), but it also serves to demean the person it's said to (the part that's immoral). Any reasonable person should know the difference.
This easily-offended issue is a problem because it promotes dishonest conversation and sometimes outright lies.
Imagine for a second I had a new girlfriend who decided to surprise me by making me dinner. The choice she makes includes cooked broccoli, a vegetable when cooked, that I'd classify as a hate crime. It smells like feet, for Pete's sake! Why would anyone want to eat that?
She may have cooked the broccoli as good as broccoli has ever been cooked, and I still won't like it. So I have two options, I can tell her I really don't like cooked broccoli at all and potentially offend her, or I can tell her it's delicious and power through it like the nice guy I am.
If I choose the dishonest route so as not to offend her, she may go on cooking her world-famous broccoli the entire time we're dating, and I end up buying a dog to sneak broccoli to under the table just to remedy the situation. Maybe she doesn't even like cooking it, and is just doing it to make me happy. This means that we're both unhappy for literally no good reason—clearly a potential lose-lose situation.
The reason the framers of the U.S. Constitution wrote the free speech clause of the 1st amendment was not to let people talk about the weather. It was to allow free discourse, including that which offends others, because there's value in such discussions. And it was the first amendment, largely because they understood it was one of the most important.
People learn how the other person feels, people find out that they're sometimes not alone in their perceived controversial thoughts, truth-to-power speech can turn into meaningful movements, and people don't go on being forced to eat cooked broccoli.
So if this is the problem, what's the remedy?
If someone says something that you find offensive, I highly suggest you stop for a second and really consider whether they meant any disrespect. If it seems fairly obvious they didn't, for the love of all that is intellectually honest, stop lashing out in retaliation.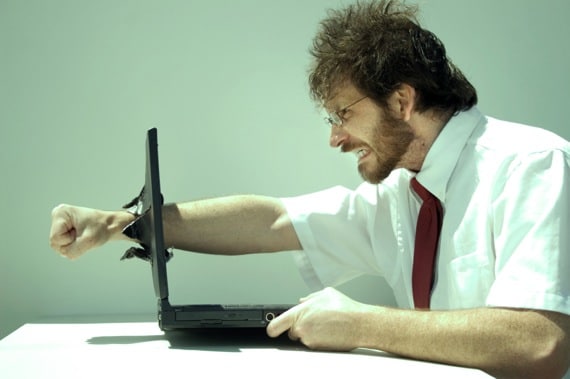 If you're not sure whether they meant to insult you, instead of snapping back hatefully with the worst possible assumption in your heart, be open-minded that they might not have meant to be insulting, and simply ask them to elaborate, or ask specific questions about what their underlying intent was.
In the age of Twitter's 140 character limit and the inability to see someone's facial expressions, a lot of context gets lost on social media. They might have wanted to add such nuance, and simply didn't have the space or the writing prowess to convey it.
If you often find yourself getting upset when others around you don't seem to be so bothered, it should be a sign that you are potentially someone who could fairly described as easily offended.
If you really wish to gain control of your emotions, consider trying to practice what Biology and Philosophy Ph. D Massimo Pigliucci, host of the wonderful and thought-provoking Rationally Speaking podcast  promotes, the philosophy of stoicism. I promise you, this way of thinking will eventually lead to you feeling better about yourself, reduced overall stress, and more meaningful and positive interactions with others, whether it be on social media, or in person.


Open and honest respectful discourse is important to our social structure, and for advancing understanding in general. Those who seek to quash it because they can't control their emotions should be encouraged to learn the art of respectfully agreeing to disagree.
Whether discussing things like racism, politics, religion, or other heated topics, we're better off if we feel free to speak our minds, and then debate those thoughts with mutual respect, stoicism, and honest candor. Hate, insults, and other heated responses only serve to upset both parties, and rarely achieve the goal of bringing us to a place of better understanding.