Recently, a friend shared this meme on Twitter. Like anyone who stands behind and supports our military, I couldn't help but be a little put off by Lena's supposed argument. So I quoted the tweet with "We all have our problems. Unless your problems are life and death, your problems don't make you special, they make you normal."
This meme appeals to those of us who feel a heavy debt of gratitude towards our military. Sadly I jumped to conclusions that I absolutely shouldn't have, and neither should my friend I discussed this meme with shortly after.
While we took different positions, he and I both assumed that Lena was referring to her claims of assault/rape during college. Sadly for Lena, the accusations she made against a person she identified as "Barry" were deemed to be about someone who never met her, and she was forced to walk her statement back.
She later stated that "Barry" was a pseudonym she had given to her attacker. It just happened to coincidentally somewhat describe a man she went to school with named Barry, who was then sadly attacked in the media after many assumed he was her rapist. To her credit, Lena eventually confirmed he was not her attacker, but no doubt Barry endured a lot of unfair stress and insults to his character as a result. People will argue whether it was her exhibiting a Munchausen Syndrome type scenario, seeking attention by claiming to be a victim when she wasn't. But unless you were there, or unless she ultimately admits no such attack happens, she should rightfully be taken at her word that she was assaulted. Rape is not so uncommon, especially when the parties are impaired (drugs and alcohol), as Lena admits to during the attack.
Being famous, she would also likely understand that she may open herself up to a slander claim if she identified her potential attacker by name, when that attacker has neither been indicted, nor convicted of such an assault. So her pseudonym claims are entirely plausible and even logical if true.
As I give her the benefit of the doubt, I also have nothing but sincerest sympathy for what she would have went through. While I think her literal words—as written in the meme—are effectively falsified by the meme, I absolutely understand and acknowledge that I have not known the fear of being raped, nor ever been the victim of any type of sexual assault. So while I absolutely sympathize—in that context—I cannot empathize.
It should be noted that there are many false rape accusations leveled at people for a myriad of reasons from later regret of a consensual tryst, to the aforementioned Munchausen Syndrome where people derive pleasure from playing the victim. But that being said, unless I am the accused and know I'm innocent, or witnessed the event with my own eyes and saw the consent, I will never claim a woman is lying when she says she was raped, and neither should you.
Because if they are telling the truth, how dare you make them feel like the villain in this equation when you have no knowledge of the truth. We have a presumption of innocence in this country. It's based on the solid scientific principle of falsification, largely attributed to Karl Popper. Because of its greater likelihood of coming to a truth, it's the moral way to approach such a claim as well.
So what was our mistake in the assumptions we made? There were actually a few.
We both assumed that the text of the meme was what she said verbatim—it wasn't.
We assumed she was talking about herself—she wasn't.
We assumed it was about rape—it wasn't.
My friend and I weren't even in the same ZIP code.
As it turns out, Lena—being a strong supporter of Hillary Clinton—was supporting her campaign in an interview with Page Six (I could not find a reputable source to confirm what she said or where she said it, so I'm taking this with a grain of salt too). Lena is quoted as saying, "The other candidates are white men and they cannot understand, even if they can understand it intellectually . . . for what it's like to be under that kind of attack, and I'm so impressed by the way she continues to soldier forth."
Lesson learned, always be skeptical of memes, even if they're shared by someone you trust. But nonetheless, there are many great discussions worth having about the assumptions we did make—even if they weren't true—aside from the lesson we already learned about making assumptions.
So let's take a couple of them on.
---
If she had been discussing women living in constant fear of being attacked by man, is that fair?
Well, yes and no.
From a purely literal sense, if you fear someone who is of no threat to you, that is effectively an irrational fear. But as famed psychologist and skeptic Dr. Michael Shermer explains, in man's evolutionary history, we are prone to a phenomenon he calls patternicity: finding meaningful patterns in meaningless noise.
As he goes on to explain (click the link above for a more descriptive example), if you assume something is a threat that isn't and flee the scene, you've endured no harm. But if you assume no threat when there is one, you are likely to be harmed. So it makes sense we've evolved to assume things are threats, even when that assumption may be false, as an effective method of self-preservation.
So for women to assume that some men are predators, even if those men are perfectly honorable in their intentions, is not entirely irrational, even though the feared assault is highly improbable (most men do not assault women). They have my sincerest sympathy that a small segment of the male population have implanted this fear in them, even if they have nothing to fear from me personally.
So men, while it's easy to get mad at women for assuming the worst in us, understand that it's a simple self-preservation instinct which is entirely natural and beneficial to their safety. Just make a sincere effort to make them feel as safe as possible if you wish to quash that fear and/or get to know them.
---
If we address my reply to the Tweet, I believe this is also a worthwhile discussion to have—not all problems are equal.
I get depressed about being single, or not reaching the level of success that I feel I should have attained in life. But I do have a job, I'm reasonably healthy, and have a wonderful family and friends. So I rarely openly share my issues, because I feel some level of guilt for complaining about these things when I see a baby with Leukemia, a soldier who lost limbs in battle, or homeless and/or jobless people whose lives are largely without hope.
It is important that we empathize where we can with people, and sympathize with them otherwise, no matter what they're problems are. It helps to bring our community together, and it's just the right thing to do in my opinion.
But for the person doing the complaining, it's also important to keep your own problems in perspective. Problems aren't that different from a hospital's triage.
Society's efforts should be focused on the most dire problems first, and we can address the less dire ones when the emergencies have all been dealt with. For instance, if I encountered both a drowning baby and a guy who's depressed he broke up with his girlfriend and just wants to talk, I'm probably going to try to save that baby and leave the heartbroken dude to sort out his own problems. If my love-struck compadre were to complain about my choice, I think we all understand he'd be out of line.
My underlying point though, is that almost everyone has problems. We all love to believe we are unique in our pain—and somehow most others have a nearly perfect life.
But is this true?
No one was more loved or respected than Robin Williams, and with his portrayal of a homosexual cowboy, and then Batman's The Joker, Heath Ledger had just solidified himself as Hollywood's newest top shelf actor. Both of these men, by all accounts, were on top of the world.
Yet sadly both of these men, with so much love and respect heaped upon them, with none of the financial stresses many of us face either, could bear to live life another day.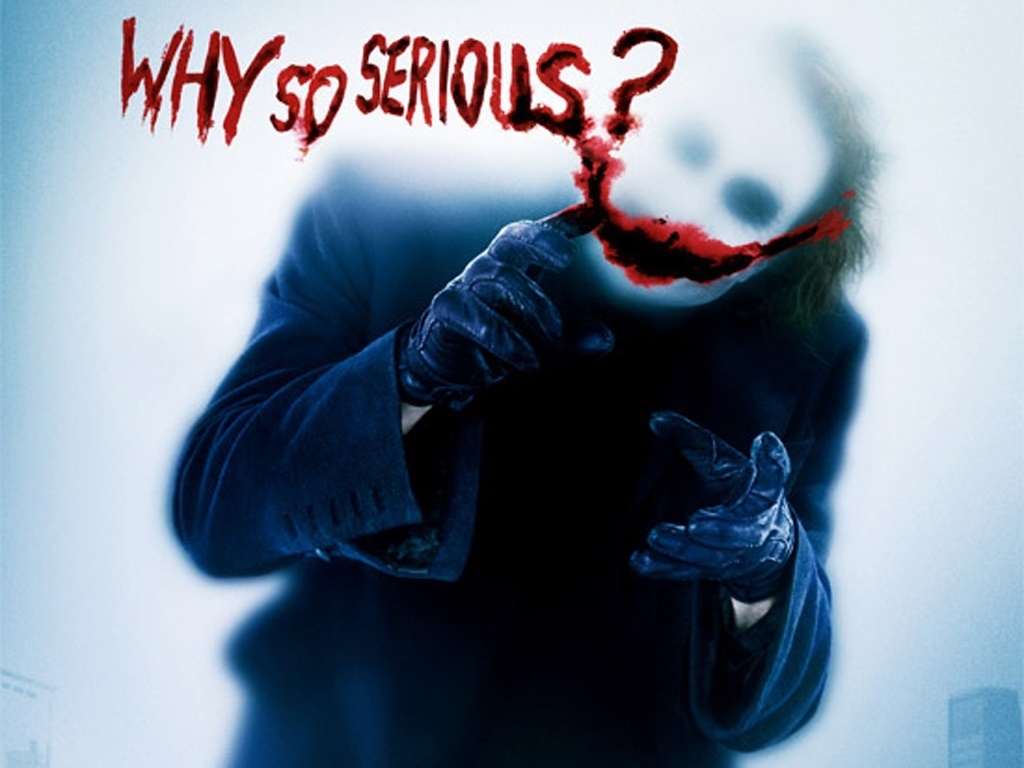 And frankly, I defy you to ask anyone about their problems and find someone who responds that they don't have any.
While someone may not know your specific pain, they almost assuredly have problems you don't understand either. If you want sympathy and respect, don't assume you're the only one hurting. You're dismissing the pain others around you are enduring—that's pretty insulting.
I can't emphasize enough how important I think it is that we be open about our problems, and discuss them with others. Bottling them up often ends in self-harmful or violent acts. So making the effort to not alienate those you'd like to sympathize with is something I think we should all strive for when we do reach out for help. I believe my approach would yield a more positive social interaction.
---
So now that we've covered our false assumptions, let's address Lena's actual claim.
A large portion of political arguments these days are hyperbole and hyper-partisanship. All sides of the aisle tend to overstate their strengths, while dishonestly ignoring their weaknesses. I'd be skeptical of anyone making a political argument on the campaign trail. But that being said, does Lena have a point?
On the face of it, no. History is littered with politicians attacking other politicians. Hillary Clinton was by no means the first to be the brunt of hateful political attacks. Some of hers are only unique in that she's a woman, but most arguments were against her policy or character—not the fact she's missing equipment down below.
America has never had a woman president, nor even a female vice-president. For a significant portion of American history, they wouldn't have been allowed to do so. They weren't even allowed to vote before 1920, with the passage of the 19th amendment.
The heinous acts toward the black community in American history dominate our culture. There are a multitude of movies, documentaries, and other media depicting the slavery era and civil rights movement—far more than there are about the hardships and atrocities women have endured as a group.
Yet I suspect many may be surprised to know that black men had the right to vote after the passage of the 15th amendment in 1869, over 50 years before woman had such rights in America.
So women have gotten pretty poor treatment throughout history (not just America) without nearly as much attention given to that fact, compared to others.
I readily admit it's plausible that a large majority of men will vote for another man. And, since many women still claim to support the traditional notion of being subservient to their male counterparts, many women may not necessarily vote for a woman either. This makes Lena's underlying point more than fair.
Much like Obama overcoming the racial barrier on the path to the presidency, our first female president will likely have higher hurdles to jump than her male counterparts do to get there too.
However, if I can pose a hypothetical situation for a minute, I don't think I could be easily convinced that if Republicans had chosen a well-respected woman like Condoleezza Rice, and Democrats had chosen  someone who's largely scandal-free like Tim Kaine as their nominees, I'm not convinced Condoleezza wouldn't have gotten the same votes Trump did, and Kane gotten most of the votes Hillary did—yielding the same result.
I think if we're honest, it would have been a far better election, with a better outcome, no matter who won, compared to the two highly-hated candidates the big parties actually picked.
Hillary most assuredly lost some votes solely by virtue of her pesky second X chromosome, but I am firmly convinced that she lost far more votes be virtue of being laden with a series of potentially immoral, corrupt, and even potentially criminal acts.
I'm of the opinion she got far more votes by virtue of being a Democrat from people who didn't like her, than she lost by virtue of being a women from people who would have otherwise voted Democrat. Most heated political arguments are partisan in nature, not sexist.
So is Lena's argument valid? Somewhat. Do I think it cost Hillary the election? No.
I think Hillary Clinton's actions and persona cost Hillary Clinton the election. Trump was arguable one of the most beatable Republicans in recent history. Laying that defeat at the feet of her gender seems improbable to me.
But if you disagree, there's a comment section below…have at it. Debate is good! Thanks for taking the time to read this.